Кафедра "Национальное и международное право"
A guest lecture conducted by a well-known lawyer in Kazakhstan - Lyazzat Akhmetzhanovna Temirzhanova
05.10.2020 on the zoom platform for the students of our department a guest lecture was held on the discipline "Prosecutor's supervision in the Republic of Kazakhstan", which was conducted by a well-known lawyer, candidate of legal sciences, counselor of justice (lieutenant colonel) retired, retired of the Prosecutor's Office of the Republic of Kazakhstan, a current lawyer of the Nur-Sultan City Bar Association, senior lecturer of ENU named after L.N. Gumilyova, Lyazzat Akhmetzhanovna Temirzhanova.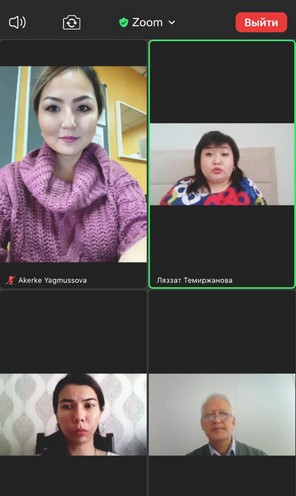 Our guest lecturer twice took 1st place in the East Kazakhstan region and 2nd place in the Republic in the review competition of the best public prosecutors, was awarded diplomas, orders, medals of the State Prosecutor's Office. The lecturer has long-term practical experience in the prosecutor's office, as a public prosecutor in participating in court hearings in criminal cases, in cases of all categories of gravity, with the participation of jurors, in civil cases, skills in working with the media. She has significant teaching experience (part-time) in universities of legal disciplines for students, undergraduates (EKSU, ENU, KAZGUU, etc.) In 2018, she won a grant from the Ministry of Education and Science of the Republic of Kazakhstan to conduct a scientific research on countering cyber theft, cybercrimes. Author of more than 60 published scientific articles (3 Scopus, etc.), 2 guidelines, 2 practical manuals, 5 patents, 1 license.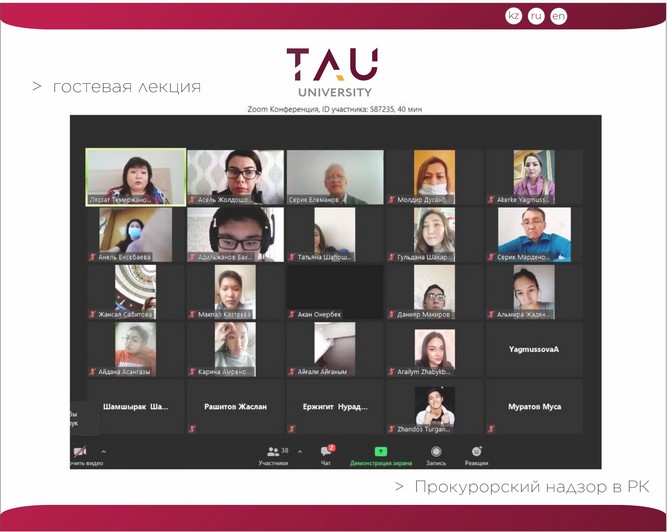 Students of the Faculty of Law, the head of the Department of DAIL Ensebaeva A.R., the teaching staff of the Department DAIL of took an active part in the discussion of the lecture.
Temirzhanova L.A. gave a lecture in a language accessible to the student, in the process of conducting a multimedia presentation was used to improve the quality of perception of the material presented. The lecturer aroused the audience's interest in the problem posed and achieved active involvement of the audience in studying the topic.
The open lecture was held at a high level!