Университет
A meeting with H.E. the Ambassador Extraordinary and Plenipotentiary of the Czech Republic in Kazakhstan, Mr. Rudolf Hickl
On February 13, 2020, Prof. Nikitinskyi, professor of the Department of Design, Service and Tourism organized a meeting with the Ambassador Extraordinary and Plenipotentiary of the Czech Republic in Kazakhstan, Mr. Rudolf Hickl. The event was attended by the Rector of the University "Turan-Astana", Professor G.A. Dzhaparova, First Vice-Rector G.Z. Adilgazinov, Vice-Rector for Science and Innovation R.U. Rakhmetova, teaching staff of the Department, students of specialty "Tourism".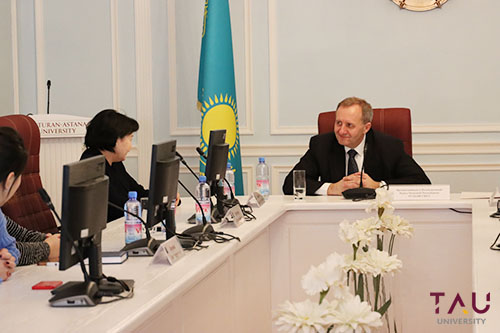 Welcoming the distinguished guest, the rector of the university thanked him for the honor and told him in detail about the history of the university.
Mr. Rudolf Gickel made a reply with the theme: "Prospects for economic and socio-cultural cooperation between Kazakhstan and the Czech Republic".
The Ambassador noted that Kazakhstan is one of the Czech Republic's most important trade partners in Central Asia and is among the 12 "priority countries" in terms of the development of bilateral trade and economic relations. He drew attention to the exchange of experience in the field of export support, investment attraction and discussion of the system of creating favorable conditions for investors in both countries, as well as cooperation in the field of aviation. The quality and lightness of Czech aircraft are second to none. They are designed for both business and private flights and are perfectly suited for pilot training and tourist flights.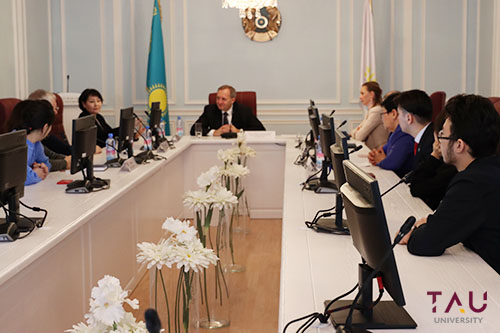 The issues of necessity to develop cultural ties, cooperation in education, youth policy, visa system, etc. were raised at the meeting.
At the end, Mr. Rudolf Gickel highlighted the trust given to him by the leadership of the university and thanked all those present for the meeting and wished success.
Both sides expressed their wish to continue to closely develop cooperation and increase bilateral contacts.